My original plan was to show you some product that will be in the shop, but I decided to save that for Sunday's post. Instead I'm going to share all the branding for the Pixies and Bears shop.

**I got the buttons in yesterday and I'm absolutely ecstatic with how they turned out. Gorgeous!!!! I had a little photo shoot with them today and here are a few pics.




All of the Designs




**Here are the business cards for my shop. I am absolutely in LOVE with them. Courtney did such a fabulous job designing everything and coming up with all the branding for my shop. It's so ME and that's what I want portrayed.




**Feel free to 'heart' my little shop, it's a great way to see when it's updated and all your support helps!! Click here :)

**I also made a Facebook Fan Page for the shop!!! I would love it if you "Liked" it :)
You can click here :) I will update on this blog as well as the fan page for any and all shop updates.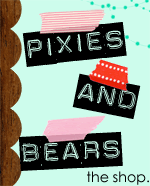 I also wanted to share with you the meaning behind the name Pixies and Bears. Most of you don't know it's actually named after my kiddos.

Since Hayden was a baby we always had the nickname 'bear' for him. He was so cuddly (still is) and the nickname just fit and has stuck! When Kaylee was born we started calling her Tink, she has the stinkiest feet (even after getting them washed) and of course baby talk kicked in and we dropped the 'S' and said she had tinky feet.. well then it turned out she was a little Diva and so it kinda went towards Tinkerbell.. So we always call her 'Tink' (for 2 reasons) and since Tink and Bears doesn't sound right, I named my blog Pixies and Bears. So I incorporated my kiddos AND it sounds cute :)

Just thought I would share... sorry now for those who fell asleep while reading my random tidbit :P

I'm off to the zoo with the kids, it's Military Appreciation Day and we get in free!!
Nice way to soak up some sun and get my mind off stressful things.

Love you all, and thanks for being so supportive of my little blog and shop. Your support has pushed me onward and I am so thankful for that!! I really hope you love what's in store and can't wait to show more sneak peeks!!

xoxo,
Lindsay